Article
Year in Review: The Biggest Enterprise Blockchain Moves of 2021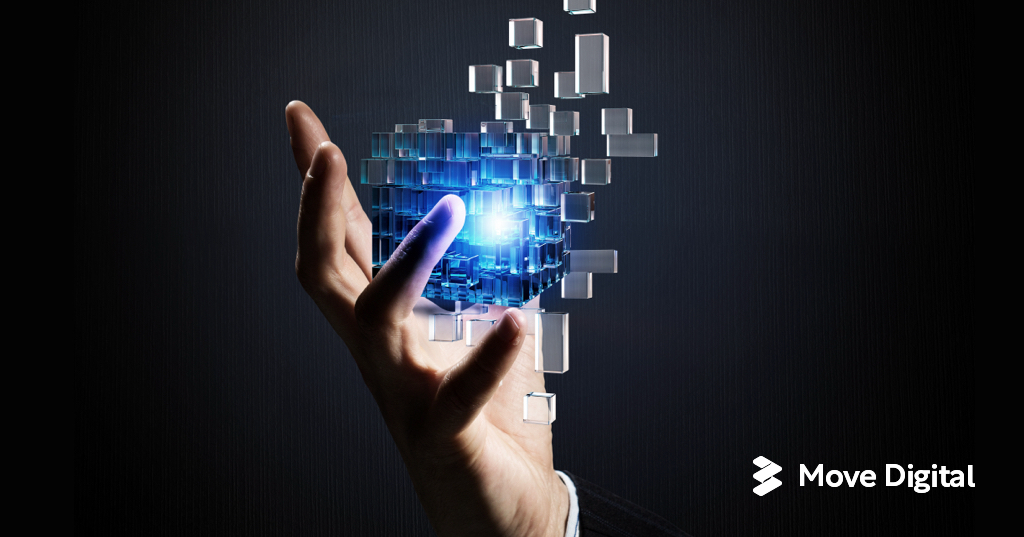 The enterprise blockchain space reached a tipping point in 2021. Across many industries, products finally scaled and went into production, delivering massive value to organizations. Out of the 81 top public companies that have reportedly adopted blockchain, 27 have their solutions in full production with a further 24 hitting several milestones in their development stages. Impressively, corporate investments into enterprise blockchain solutions also reached a new all-time high of $2 billion this year, highlighting further growth in the coming year and beyond.
This week's Move Digital Beyond Blockchain series reviews some of the biggest enterprise blockchain adoption efforts of 2021. Among the highlights include the adoption of blockchain-based health certificates, large-scale usage of blockchain in banking and insurance, and the dawn of the Metaverse.
COVID-19 pushes case for blockchain-based health certificates
The resumption of international travel has accelerated the need for airline companies to confirm the testing and vaccination status of passengers to limit the spread of COVID-19. This led to the development and adoption of several digital health passes, many of which used blockchain to increase transparency and trust in testing and vaccination records.
In April, a use case involved 12 Spanish airports incorporating the TrustOne blockchain solution for issuing COVID health certificates. The solution was developed by blockchain traceability startup TE-FOOD in partnership with medical firm Eurofin Megalabs.
In July, leading airline ticket distribution company Amadeus integrated IBM's blockchain-based Digital Health Pass. The solution adopted by AirEuropa and Norwegian Air collects passenger's health certificates and authenticates them against data that IBM collects from laboratories and vaccination centers globally. This combination produces a secure digital credential that lets airlines know whether a passenger meets the border regulations of the destination country or not.
Allianz debuts blockchain insurance solution in 23 countries
Europe's largest insurance company, Allianz, boasts over $2.3 trillion in assets under management. In May, Allianz shipped its blockchain-based insurance claims solution, which has been in the works since 2018, deploying it across its subsidiaries in 23 European countries.
The solution helps Allianz streamline international motor insurance claims, especially when a customer insured in one country has their vehicle damaged in another. Instead of the typical email exchanges between the different Allianz entities in separate countries, the blockchain use introduces a single source of record regarding claim decisions made.
The result is that a customer's claim is processed a lot faster. Within its first six weeks of being live, Allianz reported that the solution processed approximately 145,000 transactions involving some 10,000 international accident claims by customers.
Seven Korean banks adopt decentralized identity solution
In late August, the Korean Financial Telecommunications and Clearings Institute (KFTC) partnered with Raon White Hat, a subsidiary of OmniOne blockchain developer Raon Secure. The partners released a decentralized identity (DID) solution called MyInfo which was designed to solve a pain point for Korean banks.
In the past, customers were required to maintain separate digital identity (DID) information instances with different banks. However, MyInfo introduced a streamlined process where the information that a customer provides to a bank can be used to create a DID and stored on a local device. The wallet collects the customer's biometric identity, phone number, email, and address.
Customers can use this information when operating an account with any of the seven member banks using MyInfo. The customer can also easily choose which information to share with each bank depending on the requirements.
Facebook enters the Metaverse in grand style
In October, Mark's Zuckerberg's Facebook made headlines by rebranding itself to Meta. The rebranding was part of a broader push to transform the company into a social technology-based business that unlocks creative economies in the Metaverse.
As the founder noted in his letter announcing the move, Meta's Metaverse push would involve technical work including 'crypto, non-fungible tokens (NFTs), as well as new forms of governance.' These solutions are typically underpinned by blockchain technology to enable true ownership of virtual assets and empower decentralized communities. Meta's entry into the Metaverse represents one of the largest scale applications of blockchain to date and will be an interesting development to keep an eye on going into the new year.
Meanwhile, Move Digital, a premier consulting and advisory blockchain company, also announced a move to help organizations tap into the unique propositions offered by virtual economies. Move Digital began to allocate the majority of their 50+ workforce and tech resources to Metaverse infrastructure development.
Wells Fargo and HSBC to settle FX transactions on blockchain platform
In December, banking giants HSBC and Wells Fargo entered into an agreement to settle foreign currency transactions using a blockchain-based platform. The platform, called FX Everywhere, was developed by HSBC in 2018 and has been used in-house across the bank's subsidiaries.
Wells Fargo became the first external bank to onboard the network and will initially use it to settle cross-border transactions in USD, EUR, CAD, and GBP. The solution promotes real-time transparency and payment settlement between both banks, allowing net settlements to take place faster compared to previous solutions.
Notable enterprise blockchain investments in 2021
Figure Blockchain raises $200M: Figure is a blockchain firm that utilizes the technology to power its numerous businesses including debt financing, asset management, banking, and payments. In May, Figure raised $200 million at a $3.2 billion valuation. Notable investors include 10T Holdings, Morgan Creek Digital, HCM Capital and Digital Currency Group.
Blockchain trade finance startup Komgo raised $29M: Swiss-based blockchain startup Komgo raised CHF 26 million ($29 million) for its blockchain trade finance platform. It was the startup's third funding round and brought in two new shareholders, including Sumitomo Mitsui Banking Corporation (SMBC), and another global financial institution. The company now has 20 shareholders, largely comprising organizations in the banking and oil sector that utilize Komgo's platform for trade settlements.
Tap into blockchain to boost your business in 2022
It's your turn to join a growing list of innovative companies around the world using blockchain and distributed ledger technologies to accomplish amazing results. If your organization needs help figuring out how blockchain can address bottlenecks and unlock new revenue sources in 2022, feel free to send us an email.