Article
BMW and Hennessy Tap Blockchain to Unlock New Possibilities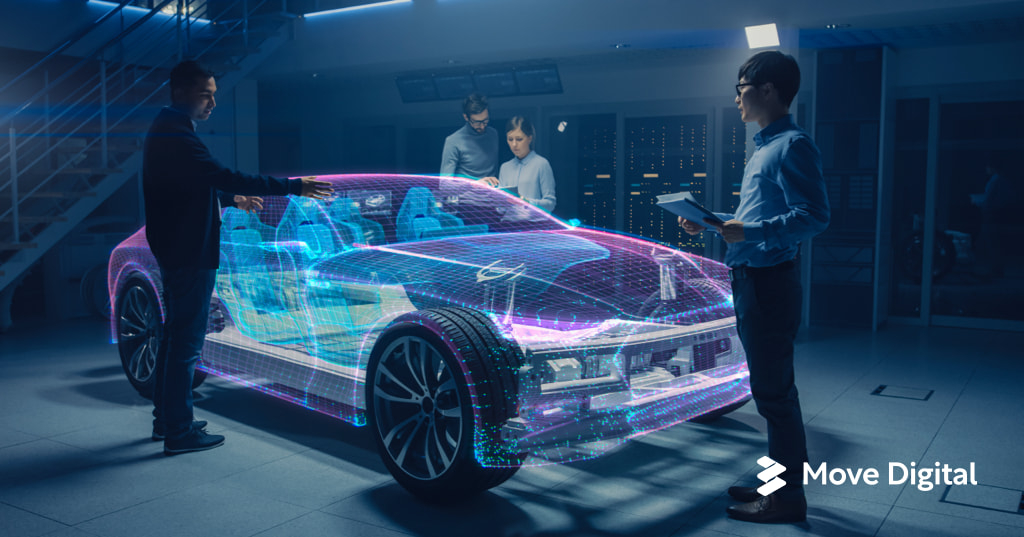 Blockchain and other distributed ledger technologies (DLTs) are redefining standards for data distribution across diverse industries. Hence, it is not surprising that blockchain usage for data sharing and provenance comes next to cross-border payments as the second most popular use case for the technology.
This week's Move Digital Beyond Blockchain release covers the adoption of enterprise blockchain solutions for advanced data sharing in the automobile, beverage, and oil production industries. There are also remarkable blockchain-related moves by Google and the Asian Development Bank, highlighting increased recognition of the technology's potential to unlock new possibilities.

BMW taps blockchain to recharging electric vehicles
German-based auto-maker Bayerische Motoren Werke (popularly known as BMW) recently trialed a blockchain-based solution for recharging electric vehicles using renewable energy. The trial was conducted in partnership with blockchain startup Energy Web and German electric grid company Elia.
The solution developed by Energy Web assigns a decentralized identity to each vehicle and shares it with all involved parties during the vehicle recharging process. Prior to this, only the charging station could communicate with the car and share aggregate data with the grid operator.
Energy Web's CEO Jesse Morris notes that "By assigning digital identities to EVs using Energy Web's blockchain-based operating system, TSOs [grid operators] can finally benefit from visibility at the device level which they have never had before." For instance, they can easily tell the number of EVs that requested renewable energy and adjust supply to meet this demand. This solution is a major step towards greater sharing of data that will spur vehicle development to new heights.

Hennessy to integrate blockchain traceability solution
Headquartered in France, Jas Hennessy & Co (popularly known as Hennessy) is one of the world's largest spirits brands, selling more than 50 million bottles annually. The company recently announced that it will soon integrate Aura's traceability blockchain project as part of a wider sustainability drive.
A blockchain solution is being adopted to trace spirits from the distiller to the final consumer. This allows the company's customers to easily verify the authenticity of products, and that they were produced under the best environmental conditions.
The Aura project was initiated by the luxury group LVMH, of which Hennessy is a part. Hennessy has previously used Aura to allow consumers to verify the authenticity of a special edition of Hennessy Paradis sold during the Chinese New Year.

Asian Development Bank to pioneer DLT usage for securities settlement
Established in 1966, the Asian Development Bank (ADB) is a regional development bank serving up to 68 developing countries. The ADB announced this week that it is piloting a blockchain solution for cross-border securities settlement. The prototype release is slated for release in the second quarter of 2022.
Cross-border securities settlements within Asia currently require the participation of custodians and correspondent banks. These transactions may also involve foreign banks in the U.S. and Europe, meaning that the final settlement spans a standard two-day period.
Adopting a blockchain-based solution will streamline the settlement process, bringing it within Asia, and allowing transactions to settle significantly faster. ADB is partnering with central banks and securities depositories within the ASEAN region, including Japan, China and South Korea. Technology partners include ConsenSys, Fujitsu, R3, and Soramitsu.

Google Labs launches blockchain division
Google Labs is a sandbox within the giant software company. This unit is where it experiments with emerging technologies such as augmented and virtual reality. Google has reportedly launched a blockchain division within its Labs unit in a bid to explore the technology's usage in cloud computing.
According to a leaked email obtained by Bloomberg, Google's new unit will focus on "blockchain and other next-gen distributed computing and data storage technologies." Google's blockchain division also includes the famous Area 120, the company's in-house incubator for new ventures.The new division is led by VP of engineering Shivakumar Venkataraman.
CNBC also reported that Google's Cloud business is on the hunt for blockchain talent to rapidly expand its footprint in the emerging industry. It is clear to see that Google is finally responding to prior blockchain-related efforts undertaken by major competitors, and does not want to be left behind.
Equinor expands use of blockchain for contract management and invoicing
Founded in 1972, Equinor is a Norwegian energy company supplying wind, gas, oil, and solar energy to more than 30 countries. In 2019, Equinor partnered with blockchain startup Data Gumbo in a trial to utilize blockchain-based smart contracts for its contract management and invoicing needs.
In a recent announcement, the partners revealed that the solution yielded 99.7% accuracy in creating invoices without human intervention. This success, along with other refinements during the trial period, means the solution is now ready for use across Equinor's oil and drilling services business. Equinor is initially rolling out a solution to its Norwegian Continental Shelf with further expansion plans to include the company's "Brazilian operated assets and beyond."

Latest Blockchain Investments
ClimateTrade raises $8M in pre-Series A: Spain-based blockchain startup, ClimateTrade offers a solution for companies to track their carbon offset projects. ClimateTrade recently raised $8 million in a funding round with backers such as SIX Fintech Ventures, Telefónica's Wayra, Borderless Capital, Algorand, ClearSky and Conexo Ventures.
Shrocken raises funding for blockchain-pharma solution: U.S.-based Shrocken recently raised an undisclosed amount for its blockchain-based SaaS solution for streamlining supply-chain management in the pharmaceutical industry. Venture capital participants in the funding round include Five Gardens and ThinKuvate.
Optimize your business with blockchain solutions
MoveDigital is a top-tier consulting firm helping enterprises discern how to address key bottlenecks in new and existing operations using blockchain and DLT-based solutions. If you need help getting started with blockchain in your enterprise or executing an existing roadmap, feel free to send us an email.