Article
Biggest Industry Players Banking on Blockchain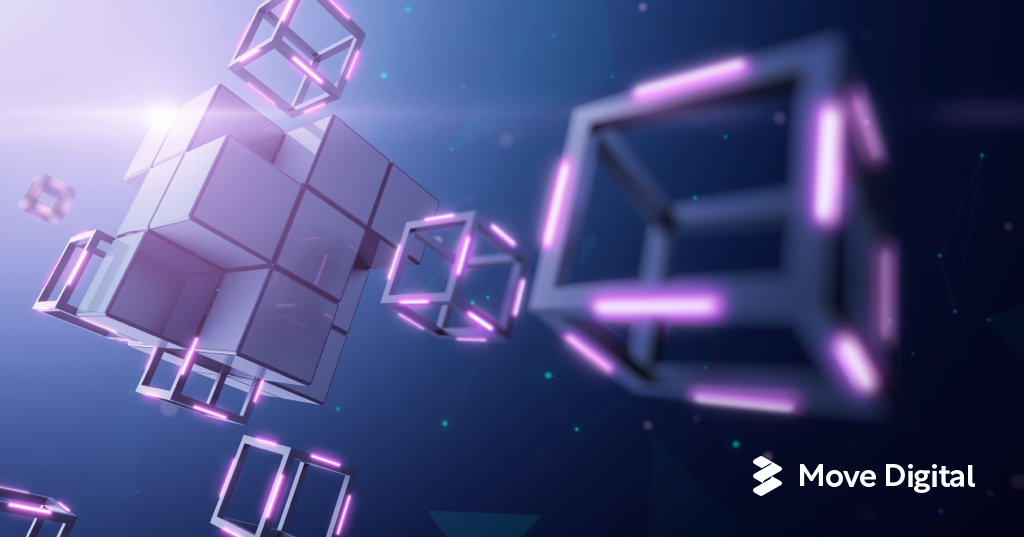 Beyond Blockchain #8: Enterprises adopting DLT to tap into new opportunities and revenue sources
When an enterprise organization decides to adopt distributed ledger technologies (DLTs) for its operations, the results are sometimes instant and add significant value to the business. In recent times, some of the world's largest enterprises are either hiring for blockchain-related roles or seeking active partnerships with existing blockchain projects in a bid to tap into the numerous benefits made possible by this emerging technology.
This week's Move Digital Beyond Blockchain newsletter takes us on a tour of companies involved in the field of trade finance, renewable energy, telecommunications, and printing. In each case, we'll see how incorporating DLT usage is providing instant results and unlocking new revenue opportunities for their businesses.
Standard Chartered Launches New Blockchain Venture in Singapore
Recently, banking giant Standard Chartered (SC) has been at the center of key DLT partnerships. In late August, Standard Chartered announced its latest venture called Olea in partnership with supply chain finance blockchain startup Linklogis.
The solution being built by the partners will add a new layer of transparency to the activities of suppliers who are onboarded to sell asset-backed securities to large enterprise investors. The blockchain will serve as a source of truth for all transactions conducted between suppliers and buyers. This will allow for suppliers with a good reputation but poor creditworthiness to begin to attract funding for their business at a fair market price.
The transacted trade finance assets will also be tokenized with blockchain technology, thereby attracting institutional investors looking for alternative assets. This will, in turn, create new revenue opportunities for Standard Chartered and their new partners.
Telefonica Unveils Blockchain-Based Certification Network
Based in Madrid, Telefonica is one of the largest telecommunication companies in the world with $9 billion in revenue generated in the second quarter of this year. On September 2nd, the company launched a new blockchain-based service that will allow any company to transparently authenticate certificates and other kinds of documents.
The solution combines the digital signature of the individual being certified and proof from the issuer showing the document is newly generated or hasn't been tampered with since it was certified. A blockchain timestamp is now used to ultimately prove the timing of the certification and validate it for use by any individual or organization that receives it.
Telefonica plans to roll-out the service to other firms, thereby creating a new revenue source. In the meantime, the Spanish company's legal team is already using the DLT-based solution to good effect. An integration with existing systems, allows for blockchain certification to be attached when exchanging confidential information with other legal teams. If their counterpart at any point denies receiving the documentation, the blockchain data will serve as evidence and help resolve such claims.
Australia's Primary Energy Company to Use Blockchain for Renewable Energy Trial
The Australian Energy Market Operator (AEMO) manages Australia's electricity and gas systems. In a new trial called Project Edge, the company wants to connect distributed renewable energy sources such as solar panels (PV) and wind into the grid. AEMO has partnered with blockchain startup EnergyWeb to provide infrastructure as part of the trial.
Blockchain will be used to create a transparent renewable energy marketplace for households that wish to sell their excess energy to the grid. Individuals can see where the energy they purchase is generated from, and that it is being sold at a fair market price. The solution may also be used to tokenize energy payments in a way that households with surplus energy can freely transfer it to others. The project is backed by A$13m ($USD $9.1) funding from the Australian Renewable Energy Agency (ARENA). Other major partners include power company Ausnet and renewable firm Mondo.
Major Japanese Plastic Recyclers to use Blockchain to Back Green Energy Claims
Dainippon Printing (DNP), Mitsubishi Chemicals, and Refinverse are three major plastic recycling companies in Japan. The three companies have partnered with Dutch blockchain startup Circularise for a solution that could help them prove to the public that the trio are reducing the volume of petroleum-based raw materials used in their plastic production. The companies are replacing these environmentally harmful materials with biomass and recycled plastics for DNP's green packaging brand.
Circularise's blockchain solution features a Smart Questioning technology that will allow buyers to query data regarding the plastics used to manufacture items that they order. For instance, they can query the percentage of biomass used by the manufacturer. Such increased transparency also forces manufacturers to abide by recommended industrial standards regarding emissions.
Electronic Arts (EA) in the Hunt for Blockchain Talents
Multi-billion gaming company Electronic Arts is on the job market in search of blockchain talent. The company recently posted multiple job postings for several Senior Director and software roles. The software developer role specifically notes that the company wants builders "for products leveraging machine learning and blockchain." Electronic Arts is also exploring non-fungible tokens (NFTs) for its gaming applications, a feature that many enterprises are now integrating to improve the customer rewards experience.
Who's Investing in Blockchain?
Japanese Trade Blockchain Platform Raises $8M: Consortium blockchain platform TradeWaltz welcomed four new investors/partners, namely TW Link, University of Tokyo venture fund, logistics company Nissin Corporation, and marine cargo firm Mitsui-Soko Holdings. The partners invested Yen 900 million ($8 million) and joined seven other firms that were already part of the consortium. The project uses blockchain alongside other new technologies to digitize international trade.
SIMBA Chain Closes $25 Million Series A: SIMBA Chain, a blockchain startup that is contracted by the U.S. military, recently concluded a $25 million Series A funding round. The firm offers smart contracts as a service, allowing organizations to easily integrate blockchain technology within their operations. The funding round was led by Valley Capital Partners and included Notre Elevate Ventures, Dame Pit Road Fund, Stanford Law School Venture Fund, and other individual investors.
Blockchain Solutions Can Bootstrap Your Business. Find Out What's Possible
At Move Digital, our objective is to help enterprises unlock new possibilities by integrating DLT-based solutions. Our team of experts will evaluate your company's objectives to determine key areas where a blockchain solution will yield significant results within the shortest time possible. If you need help mapping out or deploying a blockchain strategy, feel free to send us an email.