Article
Agricultural Blockchain Adoption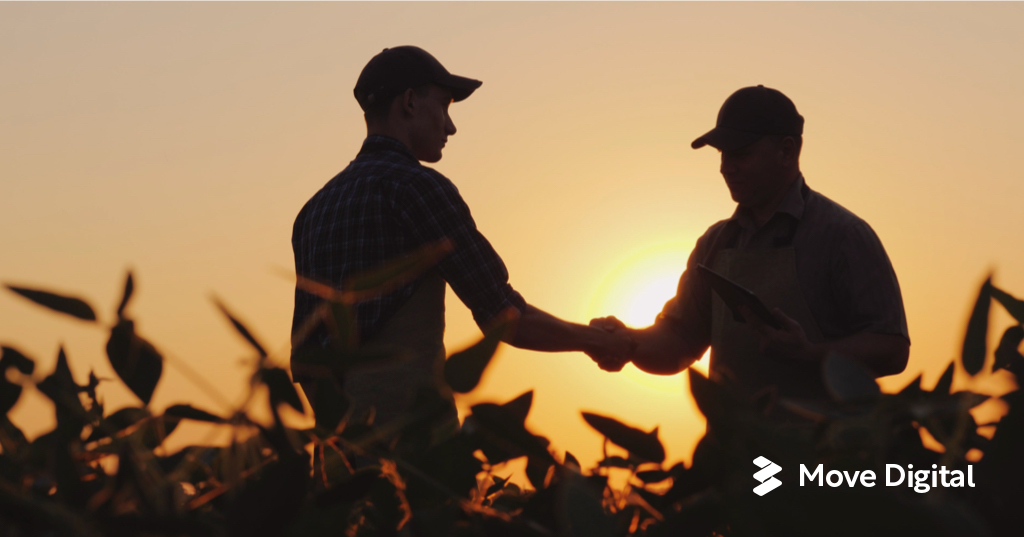 Beyond Blockchain #3 — Indian Banks and Zimbabwe's Export Beef Export Markets Turn to Blockchain Solutions
It's been another action packed fortnight in the world of enterprise blockchain with developments across several industries including agriculture, banking, and public utilities. The banking sector currently accounts for roughly 30% of the total investment being allocated to blockchain and DLT solutions but the potential innovation extends far beyond banking.
In the latest Beyond Blockchain release, we review the biggest developments in the world of enterprise blockchain over the past two weeks. These developments include governments, major tech companies, and leading payment processors. We show how blockchain is accelerating innovation in various industries and highlight the best route for new enterprises to improve their operations through this disruptive technology.
15 Bank Partners on New Blockchain Project for Letter of Credits
In India, ten private-sector banks, four public banks, and a foreign bank launched a new company called Indian Banks' Blockchain Infrastructure Company (IBBIC). The partners will work towards the launch of a new blockchain infrastructure to significantly lower the time required to settle domestic letter of credits (LCs). A letter of credit is a document that serves as proof that a buyer will pay for goods when the seller delivers them.
Rather than the usual 4–5 working days it takes to process such documents, the adoption of DLT would reduce the time to less than four hours, and also reduce the risk of fraud via blockchain-based encryption. This has the potential to become the largest adoption of DLT domestic trade and is definitely worth keeping an eye on.
LG Subsidiary Wins Korean Government Contract for DLT-based Drivers License
South Korea is looking to introduce a replacement for its incumbent plastic driver licenses and has awarded a development contract to a consortium led by LG CNS, a subsidiary of tech giant LG Corporation. The mobile license will utilize a decentralized digital identity (DID system) underpinned by blockchain technology.
This system will make it almost impossible for anyone to forge a driver's license while also accelerating the transition of Korea's transportation sector to a more digital future. The solution is expected to go live before the end of the year, with Sysone and Raon Secure, founder of the DID Alliance and the OmniOne blockchain, named as the other consortium members.
E-Livestock Partners with Mastercard to Trace African Cattles on the Blockchain
Since 2018, Zimbabwe's herd beef export market has declined significantly, largely due to a tick-borne disease that affected millions of cattle. The addition of blockchain to the industry will provide a reliable way for herders to share the medical history of their cattle and boost trust in locally-grown beef.
Each cow will receive a radio-frequency identification (RFID) tag that registers the identity of the owner on a tamper-proof blockchain. The tag would then record the cow's medical history such as vaccinations and other treatments, and then automatically update them onto a publicly available traceability system.
Moreover, the solution will allow farmers to obtain loans using their cattle as collateral. This would be possible since the loan issuer has reliable information about the farmer, their herd, and the health status of the herd. Although starting on a small scale, this experiment by Washington-based E-Livestock Global and payment giant Mastercard could significantly boost Zimbabwe's beef export business.
How Blockchain Could Help Solve Colorado's Water Shortage Problem
U.S State Colorado passed a new bill designed to address the growing water shortage issue that is being exacerbated by an ever-increasing population and hotter temperatures. Blockchain technology was mentioned alongside other emerging technologies that could help solve the problem.
The state will seek to embrace the use of blockchain to manage water transaction rights, thus allowing transacting parties to have more confidence in shared data. Such a system could rely on smart contracts to improve transaction speed and efficiency, and the presence of an underlying immutable ledger would facilitate trustlessness. The Colorado Water Institute will develop the project with support from two state-run universities and will present a preliminary report by mid-July 2022.
Who's Investing in Blockchain?
Blockchain Traceability Platform Circulor Raises $14M in Series A — Circulor provides an industrial supply chain traceability solution built on DLT and recently closed a Series A round that raised $14 million. The round was led by VC firm Westley Group with a number of other participants. Circulor already has automobile giants Volvo and Jaguar Land Rover as partners, with both companies tapping the DLT solution to track minerals using developing electronic car components.
Former LA Dodgers Owner Invests $100M in New Blockchain-based Social Media App — Frank McCourt is the former owner of Major League Baseball (MLB) side Los Angeles Dodgers. Last week, it was disclosed that McCourt had invested $100M in Project Liberty with the goal of launching a blockchain-based Decentralized Social Networking Protocol (DSNP). The solution will use blockchain to store information about connections that people create when using social media, allowing companies in the industry to have a single graph to pool data from. Ultimately, the social media app intends to disrupt the monopoly currently resting with market leaders Facebook and Twitter.
Bogota Launches $780k Fund to Accelerate Blockchain Adoption — Blockchain companies in Bogota, Colombia's capital, can now apply for a 2.8 billion Colombian peso ($750,000) fund setup by the government to boost blockchain adoption by local businesses. The Bogota Innovation, Technology and Creative Industries Fund (FITIC) will award between $2,600 and $13,300 to 100 companies and also offer advice on how selected firms can implement blockchain into their existing business model. Bogota hopes that their investment in blockchain and other emerging technologies will help the capital achieve the "smart city" status in the next few years.
Navigate the World of Blockchain with Move Digital
There is no doubt that blockchain and DLT solutions are disrupting traditional industries and changing the way that businesses operate. Blockchain solutions help enterprises address key bottlenecks in their business and radically improve efficiency and input costs.
At Move Digital, our onboarding process helps enterprises determine whether blockchain is the right fit for their operations. We will also help you secure key partnerships to integrate your chosen solution with the wider industry and start seeing results right away. If you need help integrating blockchain solutions into your business, feel free to send us an email.
Move Digital is led by an expert team with years of experience on the frontier of innovation in the blockchain field. Move Digital founder and CEO Kristof Schöffling, regularly featured on Bloomberg and Yahoo, has helped a myriad of enterprises implement DLT solutions that have improved efficiency and security. Kristof Schöffling is a serial entrepreneur that has founded and scaled several very well known enterprises with millions of users in the online space. In recent years, Kristof Schoeffling has been exclusively focused on helping enterprises identify suitable DLT solutions to address their bottlenecks. Before venturing full-time into the DLT space, Kristof Schoeffling built and lucratively exited enterprises in the niches of online gaming and data acquisition.